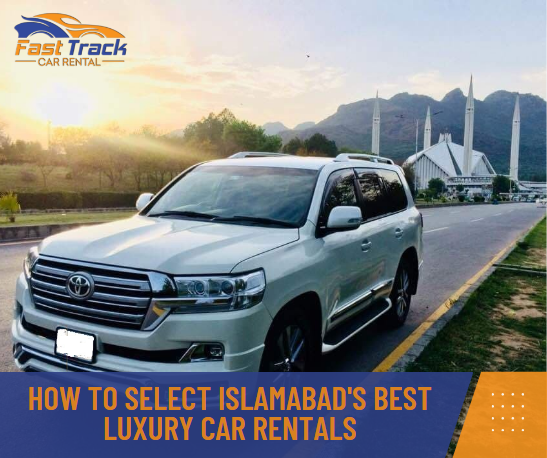 A luxury car hire is a necessity if you are a regular traveler who wishes to travel in comfort.
Renting a "luxury" or "premium" car is a great way to travel in comfort. These are high-end cars with elegant characteristics including a powerful engine, svelte exterior, plush interior, and comfortable seats.
In Islamabad, a number of reputable vehicle rental firms give you the exhilarating opportunity to rent exotic cars while saving you more money than purchasing one. Choosing a Mercedes for aesthetics or an Audi for performance when renting a car today is a sign of prestige.
Here are a few examples of high-end vehicles. They all feature similar-sized engines, dimensions, and passenger and luggage space despite having somewhat varied specs and outwardly appearing to be different vehicles.
The ideal way to select a luxury automobile hire in Islamabad is as follows:
1. Comfort Should Be a Priority When Renting a Luxury Car
Do you anticipate using Islamabad's public transit system with your family to be a chaotic mess? Don't worry; it's easy and inexpensive to rent a premium vehicle in Islamabad.
Fast Track Car Rental's selection of luxury vehicles allows you to travel in absolute comfort and style.
2. The cost of vehicles
Finding a luxury car that is reasonably priced will be made easier with the study. While you're at it, confirm that the luxury car rental company can meet all of your needs.
You can opt for a company that provides discounts or special offers if you want to keep within your budget. To cut money, don't sacrifice service quality.
3. Consider your options
The first step in finding a luxury automobile hire is to weigh your possibilities. If you're renting a for a wedding or an evening gala, think about your options
There are a few elements to take into account, including your location, the accessibility of neighboring parking, your budget, and the number of passengers.
4. The Conditions of Your Brand
It's crucial to get a luxury car that enhances the occasion as a whole. If you pick up key clients at the airport, use a luxury vehicle that will represent your company.
For instance, certain luxury automobile brands represent sophistication and flair, while others conjure up images of adventure and excitement. You should unquestionably select a premium vehicle, such as an Audi A5 or a Mercedes CLA200 if you intend to transport clients to formal business meetings.
On the other hand, if you were taking your bachelor party on a road trip, the TOYOTA Land Cruiser or TOYOTA Fortuner would be ideal.
5. Pay attention to any mileage or fuel policies
Remember to ask the rental car company about their fuel and mileage rules. The overall number of miles you can go is occasionally capped. You can be charged extra for each additional mile after that.
Check to see if the cost of gasoline is included in the rental cost or if it is a separate fee levied by the automobile rental business.
6. Take Your Group Size and Baggage Space into Account
You don't have to rent that lovely Mercedes just because you have your eye on it for a trip with your family or friends. Whether it's a sports car or a supercar, space is typically at a premium.
As a result, it's critical to take your group size into account when making a reservation. Before booking a reservation, be sure the vehicle can accommodate luggage. You don't want to be squeezed in between that baggage and your fellow passengers.
If there isn't much room in your automobile for luggage, you could choose to travel in loops or pack a lighter.
7. A luxury automobile is driven by a chauffeur
For business trips or special occasions like weddings, think about hiring a chauffeur-driven car to further increase your sense of luxury and comfort.
prev postComplete price breakdown of the average cost of renting A car in Pakistan
next postIn which case is A rent-a-car better than your own car