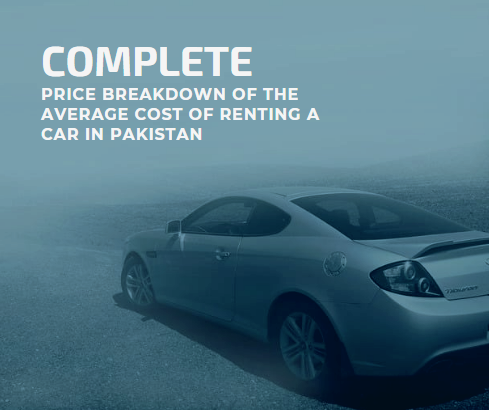 One of the most well-liked business ideas that are expanding quickly, particularly in Pakistan, is the rental-car sector. In the rental automobile business, a company lends out its car for a predetermined charge for a limited period of time, usually a few days or weeks.
The enterprises are well-known in many Pakistani cities, including Lahore, Islamabad, and Karachi. These cities, which have a history of having problematic public transportation, now provide the general public with more cheap alternatives to ride-hailing services. Additionally, there are times when renting an automobile is preferable to driving your own!
Let's examine the costs of renting a car in various cities in Pakistan.
Getting around Islamabad
The only capital city in the world without a dependable public transit system for its citizens was Islamabad. Office employees, students, and other people use private transportation, such as ride-hailing services, because the capital lacks adequate public transportation, aside from the metro bus service linking the twin cities.
Like Lahore, Islamabad has a range of prices for car rentals. This implies that paying for a driver may increase the cost of renting a car. You need to pay the security deposit before you can drive the automobile.
Lahore transportation
Lahore, Pakistan's second-largest metropolis, desperately needs dependable and effective urban public transportation. Along with other crucial services, the Punjabi government has developed a number of public transit initiatives in Lahore over the years.
In order to shorten travel times and increase accessibility, Lahore's public transportation system has undergone a number of rapid transit projects, and countless further projects that will connect the entire city are cur in the planning stages. There are many options for transportation in Lahore, like the Speedo, Metro, Orange Train, etc.
However, the reliability of public transportation is questionable. It is, therefore, preferable to consider other possibilities, such as automobile rental services, which provide a variety of options based on your demands and budget.
Lahore Car Rental Costs
Lahore is a stunning city with a rich culture, history, and Mughal architecture. Many locations should be on your list if you want to visit the city, including Badshahi Masjid, Lahore Fort, Miner e Pakistan, etc.
There are many rental possibilities in Lahore. You can schedule a ride on an hourly, daily, or monthly basis. Depending on the automobile and the distance, each may cost you money.
The cost to rent each vehicle varies. Renting both premium and compact automobiles is extremely reasonable in Lahore. On the other hand, it is less expensive to rent a car without a driver. For instance, the daily rental cost of a Toyota Corolla GLI is approximately Rs. 4100; without a driver, it may cost as much as Rs. 4,800.
Tourists can also rent the most recent, newest car models at the most competitive prices.
Transportation in Karachi
One of the most crowded cities in the nation is the metropolis of Karachi.
However, the city needs assistance in providing its citizens with a dependable public transit infrastructure. Fortunately, the Sindh Government has started a new project that might improve the Karachiites' desperately needed public transit.
These new buses in Karachi are known as the "Peoples Bus Service." These striking red buses will run along ten different routes, connecting significant residential hubs with business and industrial sectors.
Although it is a fantastic idea, there is little doubt that the buses will fast fill up and have no place for any more people. Instead of dealing with the hassle of public transit, think about Karachi's vehicle rental services if you want better mobility with more freedom.
Rent a Car Prices in Karachi
Any automobile rental company will let you rent a vehicle for the day, with or without a driver. The price of renting a car in Karachi varies depending on the automobile's capacity, pricing, and spending limit.
Another factor that could impact the price is whether a driver is used or self-driving technology. Vehicles without a chauffeur are typically more expensive than self-driving options. Prices for Karachi car rentals without drivers also include security deposit fees.
Select!
is the ideal choice for you if you're looking for a car rental company in Karachi with excellent customer support services and a varied inventory of automobiles!
You can rent a car through with or without a driver. Depending on your needs and budget, you can rent any type of vehicle. Hire a car right now!
prev postBudget travel: Which vehicles should you rent if you're on a tight bu
next postHow to select Islamabad's best luxury car rentals